For those who will rather listen
In Delhi, currently (at the time of writing), thousands of farmers are protesting against Govt. of India, hoping to successfully execute "Bharat Bandh" on December 8th, from 11 a. m. to 3 p. m.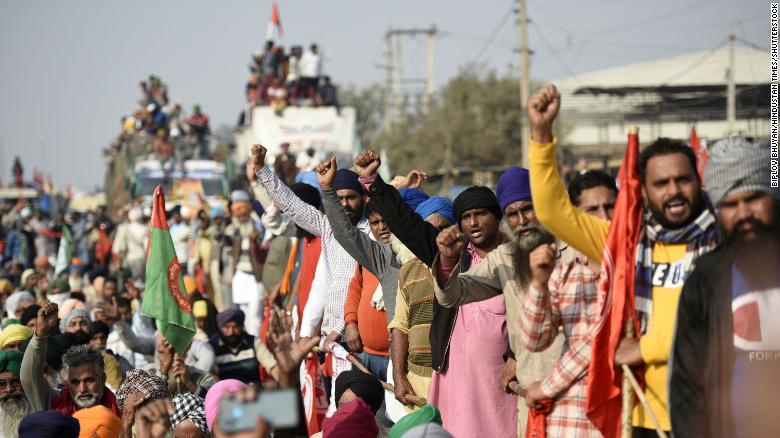 Well, what exactly lead them here in masses and with so much 'peaceful aggression'?
APMC is a system, under which, State Govt. regulated Mandis exist for selling and buying crops. APMC also regulates agricultural produce and livestock (animals involved in agriculture). It first established to prevent the exploitation of farmers. APMC.
Recently Govt. come up with Farm Bill 2020, which not only got passed in a rather suspicious way but also disempowers the APMCies.
According to Government, it'd make farmers "free" from the need to sell their crops in APMCies. But what they don't tell you is, farmers are not obligated in the first place.
In fact, The Shanta Kumar committee to review the functioning of the Food Corporation of India (FCI) had found that only 6% of farmers benefit from the MSP – Minimum Support Price, farmers get from govt. for their crops if nobody buys them in Mandis.
Another report from Niti Aayog states that 100% of Farmers of Punjab and Hariyana get benefit out of MSP.
Though Government is ensuring farmers MSP will always exist, but govt. not making it a law.
The main complaint of farmers is they are afraid that large corporation's interference would exploit their hard work. They want the govt. protected Mandis.
Think of this whole incident like this:
Imagine you're just passed from class 12th. After reading science for two years, you came to realize that you LOVE studying modern Physics, but solving a lot of circuit problems and calculating node resistances quite not your thing.
However, you don't mind using these things to enhance your understanding of Modern Physics. You decide you'd opt for minors and majors degree in the same area. Except there's an already established system of decision making in your life – whether you want it or not, Indian Youth can relate – the system includes your parents and teachers too.
So after talking to your teachers, your parents have decided for you that you must do electrical engineering. So your father comes to you, sits on the chair near your bed, and calmly, but in a voice that demands no argument says, "After talking to your teachers, we have decided you are going to do electrical engineering for your under-graduation."
"NOOOOO."
Right?
That's what you hate most about physics. You don't want it for yourself. Heck, you ain't even denying it. All you are asking for is a serious consideration of your opinion. You politely say, "Dad, I understand you mean well for me, but since it's my career which is at stake because I'll be spending the rest of my life doing it. I will not have you spoiling my career. Electrical engineering does not interest me. I'm sorry I want to pursue a bachelor's degree in Modern Physics."
You could not protest, your father made you do electrical engineering, and I understand.
That's exactly how farmers are feeling about "Farm laws – which are good for them."
They did not have a voice in any of the decision-making, despite the fact that they are the ones about whom the decision is, and their destiny is at stake. Government is no dictator-father of farmers, and in fact, it's in service of farmers – for that matter. If their fears are making them anxious, the government must soothe it with genuine and guaranteed assurances.
One thing you guys need to know, the bills have been passed in a rather suspicious manner. Without considering the opinion of the opposition. Here you can see how they exploited Rajya-Shabha rules to pass the bill without proper consensus. Another red flag, huh?
But there's more to the story:
What if it's actually good for India in long term?
What if handling over of things to the private cooperations isn't that bad at all?
What if parties and celebrates are supporting farmers just because it'd make their "image" in public better?
These questions are only hoping of the Government (Random Pro tip: Always give the benefit of the doubt.)
If MNC's do get in the agriculture business, and with no govt. to regulate, it is sensible for farmers to have insecurities about it, and their demands of bouncing back of the bills are understandable.
And when it comes to the Role of Agriculture in the Indian Economy, it's important to know a few key things:
It makes us "Aatmanirbhar" (pun intended) in feeding a billion and thirty million people.

It provides Raw material for various important industries of our country.

It makes 70% (yes seventy, not a typo) of exports of our economy possible. (If you don't know about it, the Export/import ratio plays a major role in deciding our value of the currency.)
Read More: here.
Peaceful protest is our right. Irrespective of what the issue is. The government's actions to dismiss them by force is unacceptable. I highly recommend you guys to follow news on Twitter if you do want to get live ground reports. (As I'm writing this one of the protesting farmers got killed (by whom is not clear yet), RIP)
We (the common people of India) may be wrong in some places, but protest is our right. We maybe are not in a position to make decisions, but the transparency of decision-making is needed.
Thank you for reading, guys!
Do share the word if you have found this valuable!
Guys, the first step to a more fair system of governance and living, lies in being aware of what's going wrong at first place and wherever you see misinformation or propaganda, now you are empowered with knowledge to fight it! It's a fight for truth and justice, that can't be fight alone. Do speak up where it matters.
And yes, my blog is democratic, so write down your opinions, concerns, and confusions (maybe even new insights!).
See you soon in our next battle!