For those who will rather listen
On October 3, three cars rammed into a crowd of protesting farmers in Uttar Pradesh's Lakhimpur Kheri. Two of these cars belong to union minister Ajay Kumar Mishra. Eyewitnesses allege that the minister's son, Ashish Mishra, was in one of the three cars. The incident and the violence in its aftermath left eight people dead: four farmers, two BJP workers, a driver of one of the vehicles, and a journalist. Source.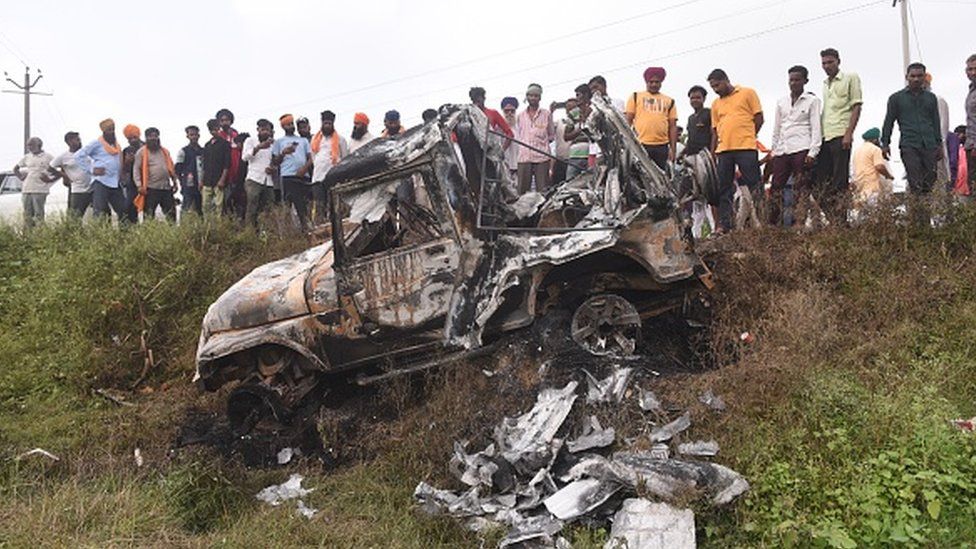 How did events unfold?

It started with a speech by Ajay Mishra. It was a speech that the farmer took offense to.
That's why they decided to protest in one of the 'Kusti matches,' Ajay Mishra was going to attend that day as a special guest.

But eventually, Ajay Mishra changed his route to the stadium, and when the farmers didn't find him, they decided to call off the protests.
They were returning to their shelters.
3 vehicles – with no intention of slowing down – rammers into a herd of them.
8 people die.
5 of them die in an accident and 3 were lynched by the angered mob.
Mob lynching is as a heinous crime as murder by car is. And not at all justified.

So there are two FIRs that have been registered, one against Ashish Mishra and the other accused-s, and another on the lynching mob.

More to the story of Ajay Mishra's Background
There's more to the story.
People of Kheri see Ajay Mishra from 2 angles:
The first story is about how he solves all their problems. The second is about how everyone is scared of him.

"At the moment, we can't show our anger because we're small in number," said Chandra Bahn Singh, A Local Sikh. "We still have to live here. If we protest and Monu (Ashish Mishra, the son of Ajay Mishra) comes back free, our lives will become hell."

But the Hindu and Muslim residents claimed they will do whatever it takes to support their "Monu Bhaiya" aka Ashish Mishra and "Teni Maharaj" aka Ajay Mishra. Source.

You can clearly see tension among communities here.
Also, how can one explain these contradictory statements?
Final comments and the conclusion
Fear is how politicians scare people. And this is the most pathetic thing they can do.
Again we need the right education to combat this.

We don't know yet whether the Ashish Mishra was inside the car or not.
But what we do know is, 2 of the vehicles belong to the Ajay Mishra.
There is no evidence that vehicles were not in control. It has to be an intentional accident aka a criminal act since we have full evidence that the car was in good control. Source.

I trust the Indian Judiciary system that criminals will be punished, and hence justice will be served.

Currently, an old high court judge Rakesh Kumar Jain is monitoring the case, which is also being probed by a Special Investigation Team (SIT).

Why is Prime Minister Modi silent on the Lakhimpur Kheri tragedy?
I'd have written PM is a human and he will talk about what interests him. But wait, what the heck? The Prime Minister's duty is to care about his people. If he can sing songs of his greatness after the same heart-wrenching incident, why can't he address his grievances for the dead?

One more question that comes to mind is,
Whom we can rely on if we are bullied by powerful politicians' families or themselves?
It's honestly scary, but we have to believe. We have to trust. We have to stand firm for what is right.
Because a violation of one person's rights is a threat to everyone's rights.

If you've found this article insightful, do share it with your friends and family. 🙂

Personal Talk:
No excuses, I've been off for quite a while. But what will surprise you is, I've been working on this piece for the past month. Heck, I've even put an analysis of how it will affect farmer protests. Fortunately, they got repealed before I could publish this.

I will try my best to be consistent with the pace of one article/month if not more from now on.

See ya in our next battle! 🙂